Anytime of the day shuffle the deck, pick a card and get a Message from your own deepest core of the Heart. Meditate over it.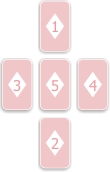 This spread can be used for getting attuned in your relationship with your partner, lover or business associate
This spread could be useful for understanding one's past life experiences and prepare oneself for the journey here now.
Throught this spread one can peep into one's cycle of karma and it's consequences.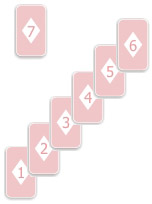 This spread is devisited for understanding one's present life's spiritual journey.
This spread can be used as a map for understanding one's seven Chakras. Osho's guidance is to attain total harmony in all the seven Chakras or Energy Centers.
This spread could be useful in finding one's balancing point. Everybody is unique so is the balancing point.